Women's Day Mammography Event
The Village of Perth-Andover held a Women's Day event at the River Valley Civic Centre in April 2022. The Foundation sponsored a health promotion kiosk about mammography. This was well attended by women of all ages and information such as the benefits of this type of health screening by Kim McLean, Manager of the Mammography Department of HDSJ. Prize draws for 2 lovely gift baskets were also part of this very successful day.
Fall Fundraiser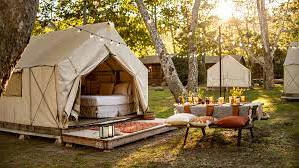 Glamping, or luxury camping, is a delightful way to experience nature with the many comforts of home. A fundraiser with a prize package for a 2 night stay in a geodesic dome, plus accessories, for a delightful experience in a natural setting is coming in the fall of 2022. Tickets will be available at Hotel Dieu Hospital or from Foundation members and will make excellent Christmas gifts.